Overview
A very easy-to-use infoproduct protection software
From now on "E-Book Protection Pro" enables everyone to completely protect their digital contents from illegal uploads and abuses of moneyback guarantee.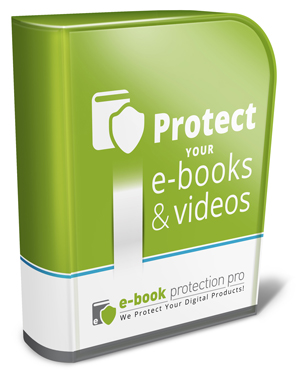 ✓

You can create the completely protected version of your digital content with a few clicks.

✓

You can

set the number of computers your digital product can be used on.

Therefore uploading your product and the related password is futile, it will not be usable.

✓

Users requesting moneyback may be blocked. Many take advantage of keeping the PDF document after their money is returned. According to statistics, the moneyback rate of products issued in a PDF format is 25-30%, even if the users are completely satisfied with the product. Since the product protected by "E-Book Protection Pro" may no longer be used after requesting a return of the price,

the moneyback rate decreases to 0.2-0.8%.

✓

Certain chapter may be set to be available for free, without password in your product. Thus you can increase interest of the future customers, making them want to access the other parts of the content. After buying, you will simply send them the password and the complete content becomes accessible.

✓

Your product will be

protected from print screen

and screen capture softwares.

✓

All created contents are equipped with

176-bit encryption.

The encryption key is stored on our server. Without the decryption key the product is only a mess of illegible and useless data. Without a password your infoproduct cannot be used at all.

✓

During its use, the product

DOES NOT copy anything on the hard disk in an unencrypted form,

and it cannot be copied from the temp directory.

✓

Created passwords can be exported in .csv format and you can easily include them in your own system, if you wish to.

✓

The protection software enables creating any number of electronic products and you can generate any unlimited number of passwords, there are NO limitations!